< Back to latest
Science busking with the Royal Society of Chemistry
24th March 2015
|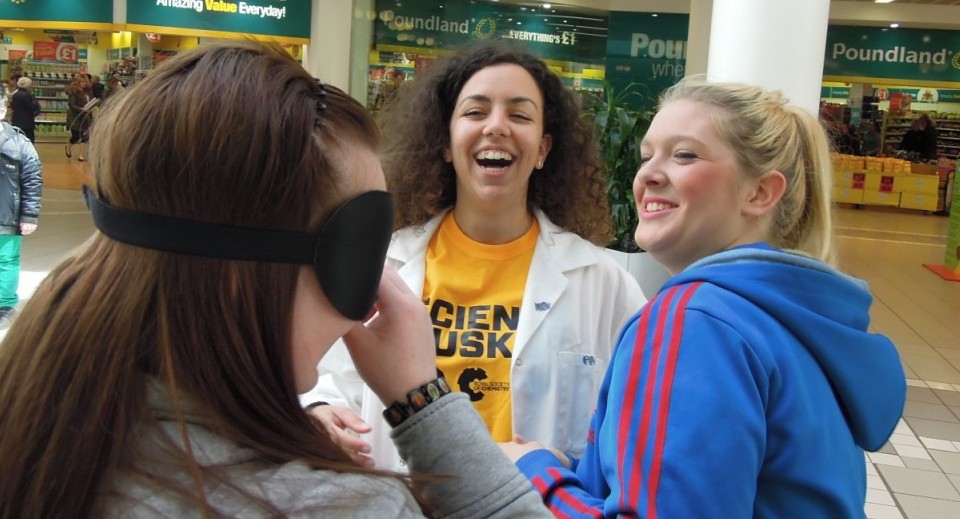 Members of the UK Science Festivals Network have been involved in around a dozen science busking events throughout this year, as part of a programme funded by the Royal Society of Chemistry and the British Science Association.
The Science in Town Centres programme has piloted the use of science busking in places where people wouldn't usually expect to encounter science. So far there have been events in shopping centres, covered markets and around public libraries. The purpose of these events is to engage with people that might not come to science events or feel that science is something they can interact with.
With surveys such as Public Attitudes to Science showing that around a third of the UK adult population feel disengaged from science, we feel that it is important to try to reach this group by bringing science to the places they visit.
Events have been held in Peterborough, Oxford, Dunbar, Edinburgh, Leeds, Crewe, Belfast, Glasgow and Brighton, with several more to come before the end of the year.
We will share more about the events and explore the future of the programme in an update later in the year.
If you organise a festival and would like to be notified about funding opportunities like this programme, become a member of the UK Science Festivals Network.