< Back to latest
UK Science Festivals Network Conference 22' reflections
10th February 2022
|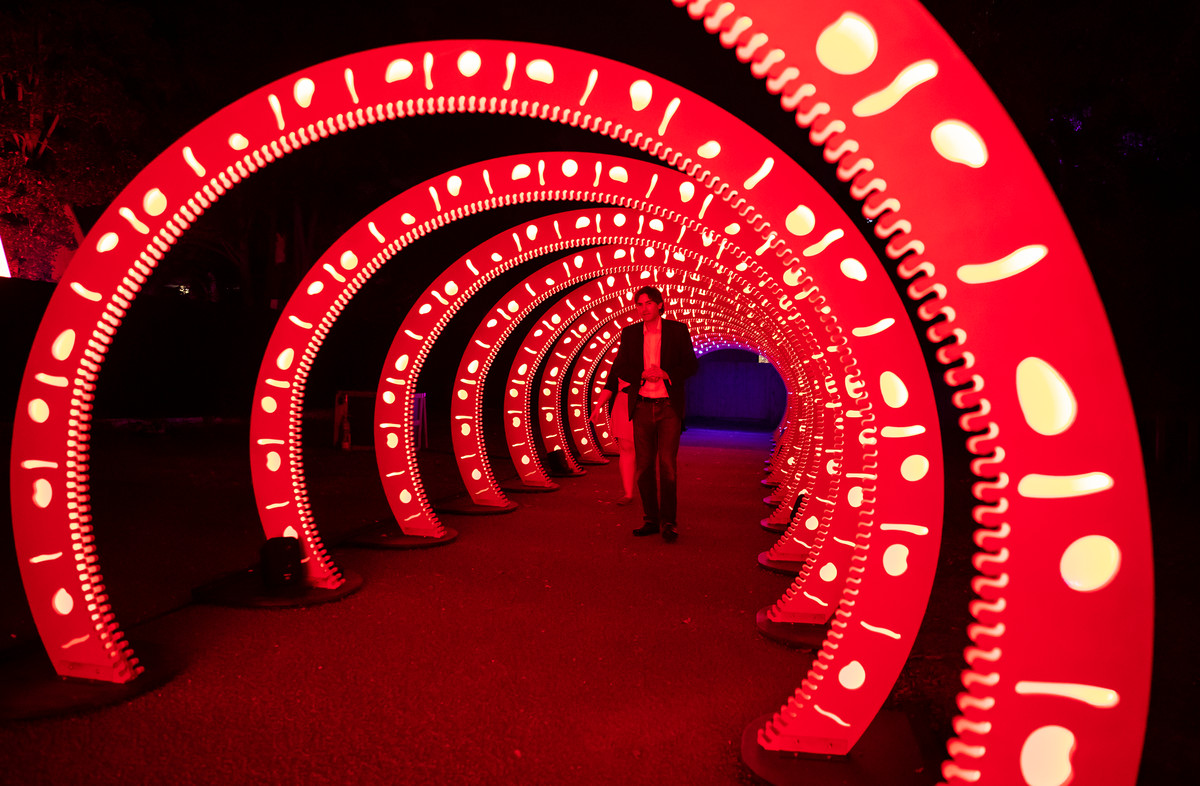 Written by Hannah Lawrence, Engagement Officer, British Science Association
The UK Science Festivals Network (UKSFN) kicked off 2022 with our fifth annual conference!
Over 100 science festival organisers from across the UK (and beyond) convened online to share ideas, explore opportunities for the future, and get inspired. We bring you the highlights.
In the past year, the science festival sector has continued to face an unpredictable COVID-19 landscape. With a growing focus on conversations around climate, and evolving ways of engaging audiences, it felt important for UKSFN22 to take stock, celebrate some of the sector's remarkable achievements, and look to the road ahead.
Attendees also tackled the subject of digital engagement, gained practical insights into co-production and learnt about new approaches to working closer with communities.
The day was filled with uplifting discussions, opportunities to connect with colleagues, and chances to relax and unwind through drawing, yoga and an assistance dog puppy cam!
You can also search the #UKSFN22 hashtag over on Twitter to follow what attendees had to say throughout the day.
State of the sector
Welcome: Maggie Aderin-Pocock (President of the British Science Association)
Maggie Aderin-Pocock kicked off the day by celebrating the resiliency and innovation demonstrated across the sector in recent months.
Using data collected from festivals across the UK, Maggie, Amanda, Heather and Antonio reflected on patterns in the festival landscape since the onset of the pandemic. Audience sizes, as well as the numbers of events, volunteers, and researchers involved in events have all been significantly impacted – but the data points to a recovering sector.
Touching on personal experience and research findings, the panel raised some important considerations for organisers to bear in mind as we step into 2022. For instance, the inclusion of those that have limited access to internet, and continuing to listen to and to work more closely with our audiences.
The panel provided an in-depth discussion on the return to in-person events while continuing to tap into the new opportunities presented by digital engagement.
People, the pandemic and the rise of digital engagement 
This session tackled the question on all of our minds: how has the pandemic influenced the way audiences think and act?
Adam Koszary explored this using two years' worth of data on the public's physical, digital and participatory engagement with culture, collected as part of The Audience Agency's COVID Cultural Participation Monitor and Indigo Act Two Survey. Findings revealed a significant rally in overall (in-person and digital) engagement in 2021, though online cultural engagement declined throughout the pandemic.
Despite this, new audiences have become engaged with digital content since 2020 and demonstrate an appetite for continued engagement. This does hinge, however, on online offerings providing both quality content and a unique selling point!
Adam concluded that it's vital to ensure digital content is accessible (e.g. through captioning and audio description) and can be used to bring a unique and complementary element to in-person engagement.
Emerging technologies, evolving audiences
The Art-AI Festival aims to engage people with the roles and potentials of artificial intelligence (AI) through an art festival that takes place entirely in the public realm. This has taken shape as a ten-month, international programme of striking art installations, alongside an online programme of talks from leading artists – generating hundreds of thousands of engagements per month.
In this session Festival Director, Tracy Harwood, delved into the world of emerging technologies within 'smart cities' She explored how this creates novel opportunities within creative practice to place artists at the forefront of innovations. As technologies continue to evolve rapidly, Tracy emphasised the importance of keeping people and places in the loop, so that we are empowering the audiences we seek to engage.
A guide to greener events
Many organisers of science events are keenly aware of keenly aware of the importance of sustainable practices in response to the climate crisis, especially following on from COP26 at the end of last year. We knew it was important to include a session in the programme tailored to those looking to make sustainability an integral part of their operations.
Drawing on her experience as director of a non-profit dedicated to reducing the environmental impact of festivals and events, Teresa Moore's short guide to greener events provided an abundance of practical tools and insights for attendees.
Careful planning ties into everything. From venue selection to procurement, and food waste to methods of promoting events – all of which tie into an event's environmental impact. Teresa highlighted the importance of policy in ensuring sustainability being embedded into the heart of our work.
We often assume that digital events have a lower environmental impact than in person. Teresa brought this session to a close by considering whether or not this is actually the case…
Co-production 101
These sessions acted as practical workshops exploring the fundamental principles of co-production. Attendees came ready to challenge assumptions about existing ways of working, exploring the what, why and how of truly including users in our festivals and events.
Bonnie and Lucía explored ideas for working collaboratively on a level playing field to make decisions that included everyone. It was fantastic to see participants reflecting on key barriers to co-production, including physical, attitudinal and communicational. There was a focus on how these obstacles can be overcome through utilising available technology, considering access needs, relying on participatory research methods and increasing our own self-awareness as organisers of festivals and events.
Co-production 101 provided a valuable, practical framework for organisers looking to shift the power from themselves to their project and event participants.
Unprecedented times: responding to an evolving events space
Ellie Harris (Greenwich & Docklands International Festival)
Whilst the COVID-19 pandemic has created much uncertainty for organisers of in-person events across the sector, Greenwich & Docklands International Festival (GDIF) made bold strides as one of the first festivals to pioneer an in-person event after the start of the pandemic.
Ellie Harris shared learnings from planning to delivering, all whilst in the midst of fluctuating COVID-19 restrictions, including:
Using audience messaging to convey a shared responsibility for keeping everyone safe.
Consulting with external health and safety advisors and behavioural psychologists.
Ticketing events, rather than using walk-in options.
Echoing the sentiments expressed by other speakers such as Adam Koszary, Ellie reflected on the use of digital tools to enhance live events and promote accessibility.
She used the example of GDIF's Lullaby, a poignant and moving British Sign Language Film produced to accompany a participatory piece of artwork. The artwork celebrated 'bedtime' through an illuminated, surround sound night-time bike ride. Producing the complementary digital offering enabled deaf and hard-of-hearing communities to explore these themes.
Community FM
This fascinating case study showcased an exciting project within FUTURES: European Researchers' Night, a festival of discovery that equips researchers with public engagement skills while bringing them into spaces where the public are.
Dean shared how the COVID-19 pandemic prompted the FUTURES Team to massively rethink their formats in 2020-2021. They made a conscious decision to combat digital exclusion while continuing to connect researches and communities in meaningful and relevant ways. The solution: community radio!
Working with a number of community radio stations, FUTURES on Air worked closely with users to identify their priorities and interests in relation to research. By matching these groups with appropriate researchers and working with trusted intermediaries including producers and community radio practitioners, the team enabled the cocreation of radio shows that were important to them.
CHECK OUT SOME AUDIO CLIPS FROM THE SHOW.
Case study: Designing with communities
In this session, Emma Slater shared a compelling case study from her experience of growing and developing a meaningful partnership with the North Paddington Youth Club over a period of several years.
Emma reflected on the importance of making yourself available, prioritising flexibility and most importantly – listening and responding to the community group. Over the last two years, this collaboration has empowered young people to co-develop numerous projects, designing and developing projects from trainers to e-scooters, alongside artists, engineers and researchers.
The significant impact of these projects on participants' perspectives of science and researchers showcased the vital importance of relationship building when working with communities. It may not always be without it's challenges but, as Emma so rightly put it, "the relationship is the project".
To find out more about how Emma and the team from Imperial and the Great Exhibition Road Festival have worked with NPYC, check out this blog post she wrote reflecting on her 2020 UKSFN-funded making connections project.
Reflections from UKSFN22 and the road ahead
Chair: Katherine Mathieson (British Science Association)
Before it was time to click "leave meeting", Eduardo and Steve shared their experiences of curating science exhibitions and bringing together science with communities in the final UKSFN22 session of the day.
In this discussion, chaired by Katherine Mathieson, the panel accepted that COVID-19, the climate crisis and advancements in the technological and digital spaces are likely to continue to be key themes, and significantly impact the world of science engagement. Steve reflected on the value of cocreation and role that engaging underrepresented communities with science has in bringing people together and paving the way for scientific legacies – which is crucial in challenging times!
This session highlighted the importance of optimism as we move forward with our own festivals, events and projects. Despite the challenges of recent months, innovations in the ways we engage audiences are opening new avenues to reach new audiences, and champion inclusivity.
The conference concluded with a strong sentiment of excitement to be an integral part of these upcoming developments, paving the way for the future of the science engagement sector.
The wealth of insight and experience from across the science engagement sector is staggering.
It's incredible to be able to connect, and reflect on the topics that are currently front of mind for many of us.
Until next year, here's to continuing to learn from current global challenges, perfecting the balancing act of digital and in-person events and developing accessible and inclusive content to radically shift the power to our audiences.
FIND OUT MORE ABOUT THE UK SCIENCE FESTIVAL NETWORK HERE.
Related blogs: