< Back to latest
Building back stronger – the outlook for science festivals
12th January 2021
|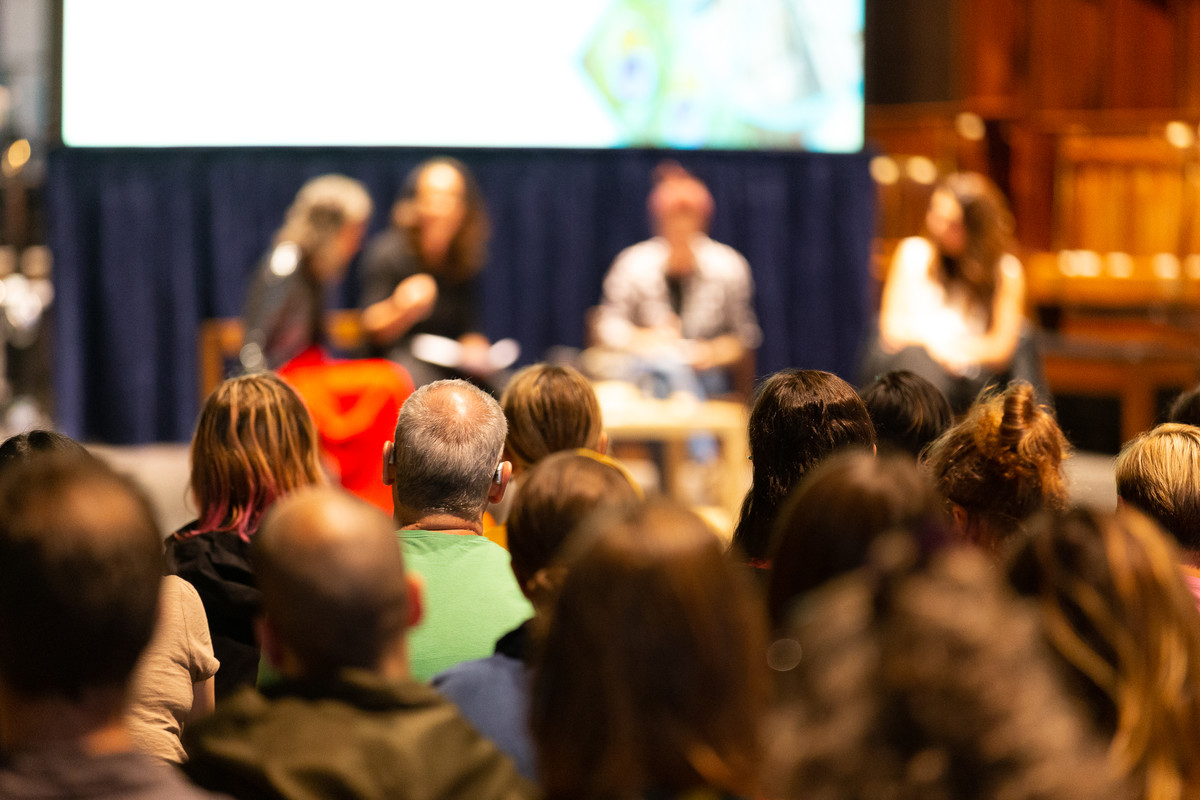 As part of her role as Head of Engagement and Director of the British Science Festival, Ivvet Abdullah-Modinou has chaired the UK Science Festivals Network since 2014. Over the past six years the UKSFN has grown to become the voice, and bold advocate, of supporting the sector. As she prepares to leave her role, Ivvet shares her thoughts on the core strengths and future opportunities for science festivals, despite the challenges of 2020.
Another pillar of the UKSFN's work is their annual conference. This will take place 19 January 2021. For more details, visit the event website.
The UK Science Festivals Network (UKSFN) is a community of practice which aims to improve and expand the science festival landscape in the UK. At the end of 2019, the UKSFN, with support from Wellcome, began a strategic journey to explore what the science festival sector could look like in 10 years. We wanted to embrace the design methodology we had been encouraging festivals to use in their work to take a closer look at the purpose and value we bring to the communities we serve. I was personally excited at the prospect of this work as festival organisers often have little opportunity to reflect or develop their practice due to the cyclical nature of planning festivals.
How we carried out the work
We sought the help of a professional speculative designer, Laura Melissa Williams, whose role was to ask hard questions, share insights from other sectors and help us to articulate how the UKSFN could further support festivals. Laura's energy, focus and experience has been instrumental in the success of this project.
And so, with all the pieces in place, our first task was to understand how people view festivals and the work being done in towns and cities across the country. We kicked off by carrying out interviews with our festival community, stakeholders, funders, community leaders and wider cultural practitioners from beyond our sector. But of course, 2020 had other plans.
The pandemic left festivals, like most events and arts organisations, in chaos. We paused to ask ourselves – was this the right time to be thinking about festivals of the future when there were more pressing, immediate needs? The focus for many was simply survival, not their long-term strategy. However, we saw this as an opportunity.
While the pandemic meant we had to slow down and reflect, we would eventually be rebuilding, and this work could help frame what festivals focus on going forward. For me, this wasn't just about rebuilding what we do; it supports how we think about change and how we learn to embrace that.
And so we continued, with an aim to highlight the good work already happening and act as a critical friend for festivals in their time of need, wherever they were on their journey to taking a more audience-first approach.
What we found
Our work found five key strengths and opportunity areas that festivals should continue to build on in a post-COVID world. Excelling at just one is not enough; the work at the intersection of all of these is what makes festivals relevant and enduring in their communities…
Place-based, space agnostic
This phrase was coined by Farrah Nazir, our partner at Wellcome, and it really resonated with us as one of the main strengths of festivals. Without large buildings to heat and run they can be fully responsive to their audiences, going where they are needed and where they have been invited. As we have seen, yet be really targeted with their approach, whether that is popping up in a city park, independent cinema or local hair salon.
How festivals integrate with other community initiatives will become increasingly important in a post-pandemic world. For example, how might festivals help a local council realise its ambitions for the city? Could they collaborate with the tourism board? By exploring these types of questions and building new partnerships in response, festivals can be more than a 'nice to have' event in the city calendar, instead beginning to meet local priorities and delivering lasting, audience-led outcomes.
Informational and educational
The most common response from attendees on why they visit festivals was their view that they are a trusted source of information, and provide educational benefits, to them and their families.
Exploring their reasons further, audiences also said that highlighting the various careers in STEM, complementing classroom learning and building confidence with science were a strength of festivals. This is brilliant for our existing audiences but what about those we don't engage with?
Turning complex science into clear and engaging content is the bread and butter of science festivals, and in fact, most of the wider science communication sector. But what is the role of a science festival in a 'fake news' world, where it sometimes feels people are more interested in who is speaking rather than what they are saying? How might festivals build trust with new audiences, and help to question, challenge and navigate the vast array of information, given their credibility in communicating science? Trust is the key word here. It must be earned, and then maintained. There are some excellent examples of how festivals in the US are using listening as a basic entry point for building community trust, spearheaded by Daniel Aguirre.
Diverse and inclusive
These words come up a lot in our sector, and quite rightly so. But this isn't just something we can achieve and then forget about it. It must always guide our practice, whether it is programming, partnership building or operations.
Festivals regularly champion the diversity within STEM, seeking out new role models and sharing their platforms to celebrate their work. But who makes these decisions? Who volunteers their time to help 'backstage'? Who does the festival sector employ? We have to know who we are as a community if we want to hold ourselves accountable to the change we want to see. The UKSFN diversity survey for the sector will aim to answer these important questions, and act as a benchmark going forward.
The opportunities that a robust diversity and inclusion agenda provides is not just for existing festivals. We actively champion, and learn from, new science festivals established, and managed by the community. An excellent example is the Rochdale Science Extravaganza started by Mohammed Rahman because his son, Labib, asked why they always had to travel miles to engage with science. This type of community-driven science festival, as opposed to a university-led one, is on the rise and comes with an inherent degree of trust built in.
In order to be more inclusive in a post-COVID world, we as festivals must further develop our skills and resilience to enable us to have complex and sensitive science conversations with researchers and local people. Whether it's vaccine hesitancy, climate change or the ethics of AI, we must resist taking the easy road and having conversations with the audiences who will readily seek us out. We must ask who is missing from the conversation and why? How are we failing science and society as a result? The risk of not answering these questions is too great. This is an opportunity to build something new that delivers even more benefit to our communities.
More than the sum of our parts
Festivals act as brokers between different communities and use their platform to bring them closer, whether it is artists, scientists, council members, community leaders or other cultural entities. But to what end? Yes, to develop excellent content and deliver a memorable event, but we can go far beyond this. By taking a hyperlocal approach, I believe festivals can – and do – have an important role to play in building community pride.
For example, in my role as the Director of the British Science Festival, which travels to a different city each year, I speak to various local stakeholders to really understand the city we are in to make sure our approach is co-developed, appropriate and inclusive. It was clear from the people I spoke to in Coventry (the host city in 2019) that they were incredibly proud of their history as a city of peace and reconciliation – how could our work celebrate that and reflect this back to the community?
We know that festivals provide an important platform for researchers to directly engage with the public. In 2019, UKSFN members worked with over 11,000 researchers and science communicators across the UK. However, we also know it's not enough just to put researchers in a venue and wait for audiences to book tickets. We must leverage our existing networks and broker local partnerships in the co-design of these events, elevating the quality of the researcher interactions. A brilliant example of this is the bringing together of researchers and specific groups of young people to co-design festival events and activities which has been supported by UK Research and Innovation.
A sense of wonder and inspiration
Science has the power to inspire. It can connect to your emotions as well as your intellect, and the people we spoke to certainly believe festivals deliver this wonder and inspiration time after time, making science part of the cultural offering of a place.
The importance of inspiration is sometimes seen as a soft outcome, but it mustn't be overlooked. As a child, the natural world inspired me in ways I can never fully explain. I don't mean walking in the woods – as a child of immigrants we didn't hike! I mean the power of volcanoes and storms, dinosaurs bigger than houses now reduced to bones, the burning beauty of the sun, the cold plains of the Antarctic, and plate tectonics that have the power to literally move mountains. This science fascinated me, and I think at its core was because it gave me perspective; here is something so much bigger than me. It was an escape from the mundane and daily struggles of growing up.
However, we need to make sure this inspiration stretches beyond the young person and into their social circle. My parents struggled to nurture this interest and they certainly didn't know that there were careers in these sorts of fields, let alone how to support me to navigate the system. As the Science Capital work of Louise Archer and colleagues shows, we need to equip parents, grandparents, guardians, and wider society to encourage and cultivate that inspiration and wonder. Festivals are part of this scaffold in a young person's life and must be supported in their efforts to deliver these benefits to their communities.
Festivals deliver amazing work across the country and they have had an incredibly difficult year. As we enter our third national lockdown they continue to persevere with a resilience and drive that should be recognised and celebrated.
I leave my role as Chair of the UKSFN in what is undoubtably a turbulent and uncertain time for festivals. However, I know that our members will continue to drive innovation in our sector through their commitment to their audiences, their passion for science and their motivation to make a difference in their community.
The UKSFN conference takes place on Tuesday 19 January and you can book your tickets here.
To find your nearest science festival, visit https://sciencefestivals.uk/festival/